#15 - Lost towards Logan, then Carbrook and 3 points return
Last week I did ride Sunday, Tuesday, Wednesday, Friday, Saturday and then yesterday (Sunday) again. It was a pretty average week and towards the end of the week my legs did not quite perform as expected. That made me think of skipping the Sunday training ride with the boys as it included ascent up to North Tamborine in the Gold Coast hinterland. In the end I decided to go as two of the group planned to leave out the hill and go back via Carbrook and the 3 points (Victoria Point, Cleveland Point and Wellington Point).
With usual navigation challenges on our way out of suburbian areas in the South of Brisbane we made it past Logan where we first were attacked by a swooping Magpie before my rear tyre went flat. 
After fixing the tyre the group split. While three of us continued towards North Tamborine the other three, including me turned off and headed towards Victoria Point. It must have been the outlook of a great tasting banana bread at the Brown Sugar cafe (just don't expect brown sugar for your coffee) that made us going with significantly higher speed.
Filled up and energised we got back on the bike, waving 'Hello' to the gazillions of boats on Moreton Bay from the other two points and finished strong on the last very little hill to battle out the "Cappucino Cup". Not sure who won but the burger at Ollie's was a welcoming reward.
#14 - Moggill Ferry / Brookfield / Gap Creek Rd / Mt Cootha
After the 300km test ride last weekend we kept it 'short' this week with 130km but mixed it up with some good hills. Leaving the east of Brisbane we started along the River Loop before we headed further south west past Wacol rehabilitation center and the mental health clinic towards Moggill Ferry.
After practising the ferry ride - although only 5 min accross the Brisbane River - we continued to Brookfield for the longest for three well known fingers.
I still don't know who's idea it was but we put on some good pace up the Brookfield finger so that we deserved a coffee.
Filled up with caffeine we made our way towards Gap Creek Rd. Coming from Brookfield it is a bit of effort to get up the several pinches that follow eachother before you get to enjoy a decent into The Gap.
Mt Cootha was next and even with 100km in the legs I managed to do it in my second best time ever. The training over the last weeks and months is showing some results.
Two more weekends before it gets real!
#13 - RATB 300 Test Ride
300 can be done!
This is my conclusion after our Roadies Around The Bay (RATB) Test Ride last Sunday when we clocked in 302km.
Although the start was a bit slow with the first flat tyre around the 10km mark we managed to ride for another 60km past Caboolture before we had flat tyre No 2. After flat 3 and 4 by the 100km mark we decided to ride until we find the nex best coffee shop in wonderful Wamuran.
Filled up with caffeine the next 35km were still fine before I went through a low. It was midday on a sunny day and the tarmac reflected the heat. For the next 20km I struggled to stay on with the pack. In Dayboro, at the turn to Mt Mee I took a little caffeine energy booster that helped me getting up the 8km ascent and back. The reward was a strawberry milk and a banana bread at the Dayboro Bakery.
From here we were riding back toward Brisbane. Against the original plan we decided to skip the loop down to the Moggill ferry and do two River Loops instead. At this time we realised that we would ride into the dark and only had one rear light amongst us.
It was a very long day with close to 15hrs on the road including stops. We even got to practise the ferry ride in the end and enjoyed a light show on the river at Southbank.
A few impression from the day...
Mt Nebo before breakfast
Rain kinda washed away the weekend and so we decided to throw in a very early ride up Mt Nebo on Tuesday morning.
We left at 4:10am and after the first 20 through the city it takes 20km of climbing with occasional descents to get to the top. It was dark but very quiet.
The descent was really nice with the rising sun creating a great atmosphere all the way down to The Gap - worth to slow down and take a different kind of selfie.
#11&12 - long days getting tougher
#11 - early Bay Loop followed by a trip to Caboolture and back
A 200km ride was on the menu for the weekend but in order to get this many kms in and be home in a reasonable time I decided to give me myself a head start and do a early Bay Loop upfront and turn back early while the rest of our Club 300 group continued further North.
A short water break at Deception Bay.
#12 - going South with a gusty finish
Last weekend the Club 300 group wend South. The route would take us all the way to Paradise Point at the Gold Coast and back along the Moreton Bay to Brisbane. Again due to time constraints I had to turn around early and therefore clocked in 'only' 155km. 
However after all I was not sad about this shortfall as we had heavy westerly head wind for the last 50km which drained my energy tanks quickly - not to mention my motivation to keep padelling.
Unfortunately the long ride that the rest of our Club 300 continued paid a large toll and reported one rider down after hitting this rock. Speedy recovery Adam!
#10 Bunya Hills/Mt Samson/Petrie/Scarborough
What a cracker day and the longest ride sofar. We went out towards Bunya Hills just north west of Brisbane where a few rolling hills awaited us.
On the way out we learned that it takes 8 people to repair a flat tyre: 6 spectators, 1 who changes the tube and 1 to take the photo.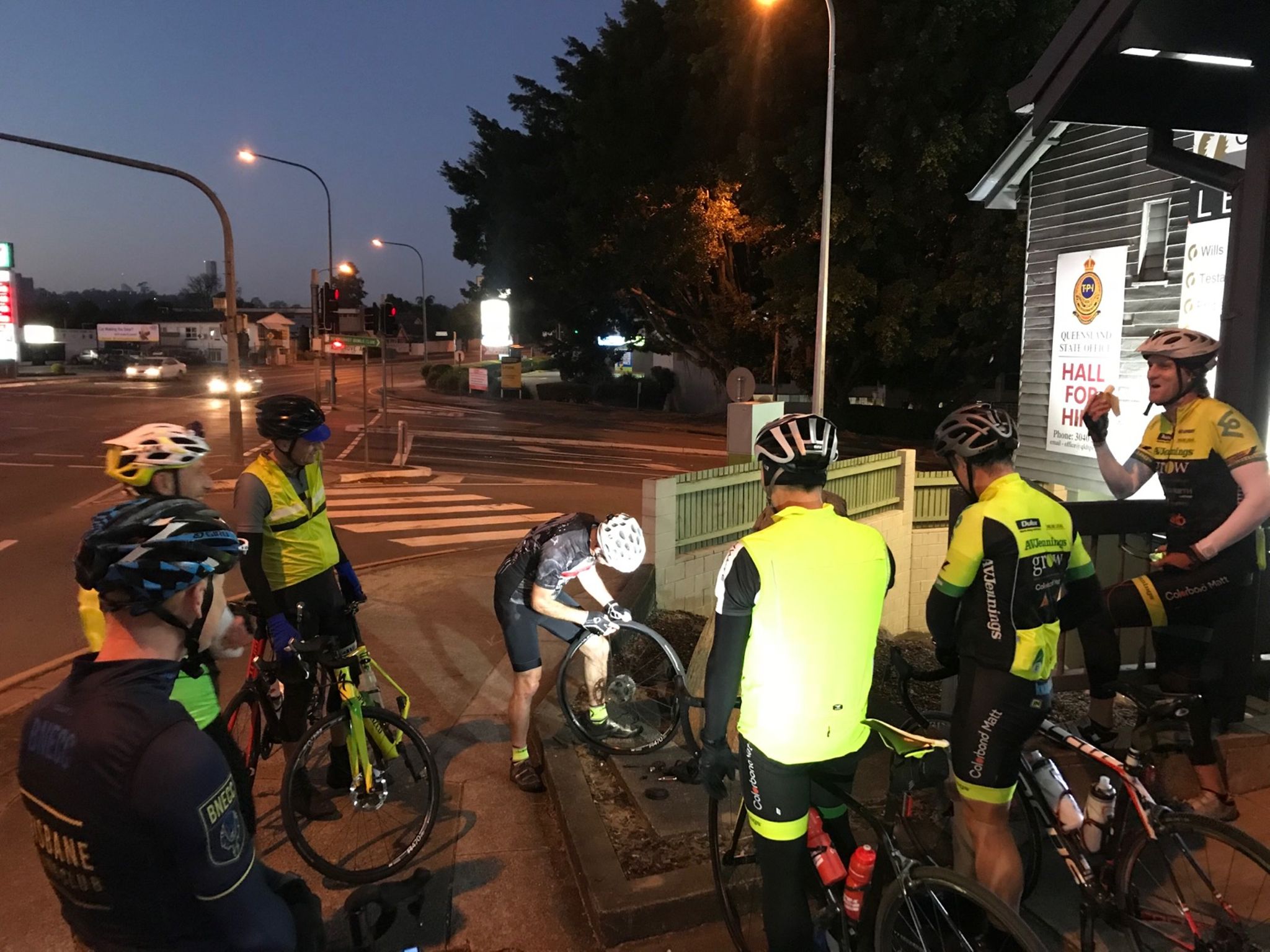 Once that was fixed we experienced a beatiful scenery just outside Bunya where some fog was covering the valleys. 
New roads were explored around Mount Samson when we were rewarded with great views over Lake Samsonvale. 
From there we crossed over to the Bay at Scarborough and then down south back accross the Gateway Bridge back home.
While my legs were still feeling ok I had to realise that I did not bring enought food as I felt hungry towards the end. In the end I have found a solution to address that problem.
BTW - the crazy bunch on the photo is 7/10 who are riding the 300km ride Around the Bay with me ... 
#9 - Sunrise at Nudgee Beach / Coopers Manly / Wellington Point
This weekend I had other committments and couldn't join the group for a century ride. 
Instead I started with a couple of mates for a chase out to Nudgee Beach. After returning one safely back to the southside of the Brisbane River the remaining two of us continued to Manly Esplanade for a nice coffee at Cooper's with the rising sun over the bay. After leaving the last companion behind in Manly in continued to Wellington Point the make use of the limited time I had this morning.
In the end it was a great morning on empty streets with beautiful weather. I can't wait for the next weekend to do the same.
#8 - Moggill Ferry, 2 fingers with a twist and Gap Greek Rd
This Sunday our 'coach' had a great idea and planned the hills at the end of our ride. 
We started with a very cruisy ride along the River Loop before we turned off towards the south eastern subburbs. The route took us past the Brisbane Correctional Centre and the Park Center for Mental Health. I was suprised that we nooned stayed behind...
After a nice and relaxing ferry crossing for about 5min we went over the Pinjarra Hills to Brookfield where we did an early brake. Kudos to Steve for not anly admiring the old piano but also providing some lovely background music while the rest of us filled up the tanks.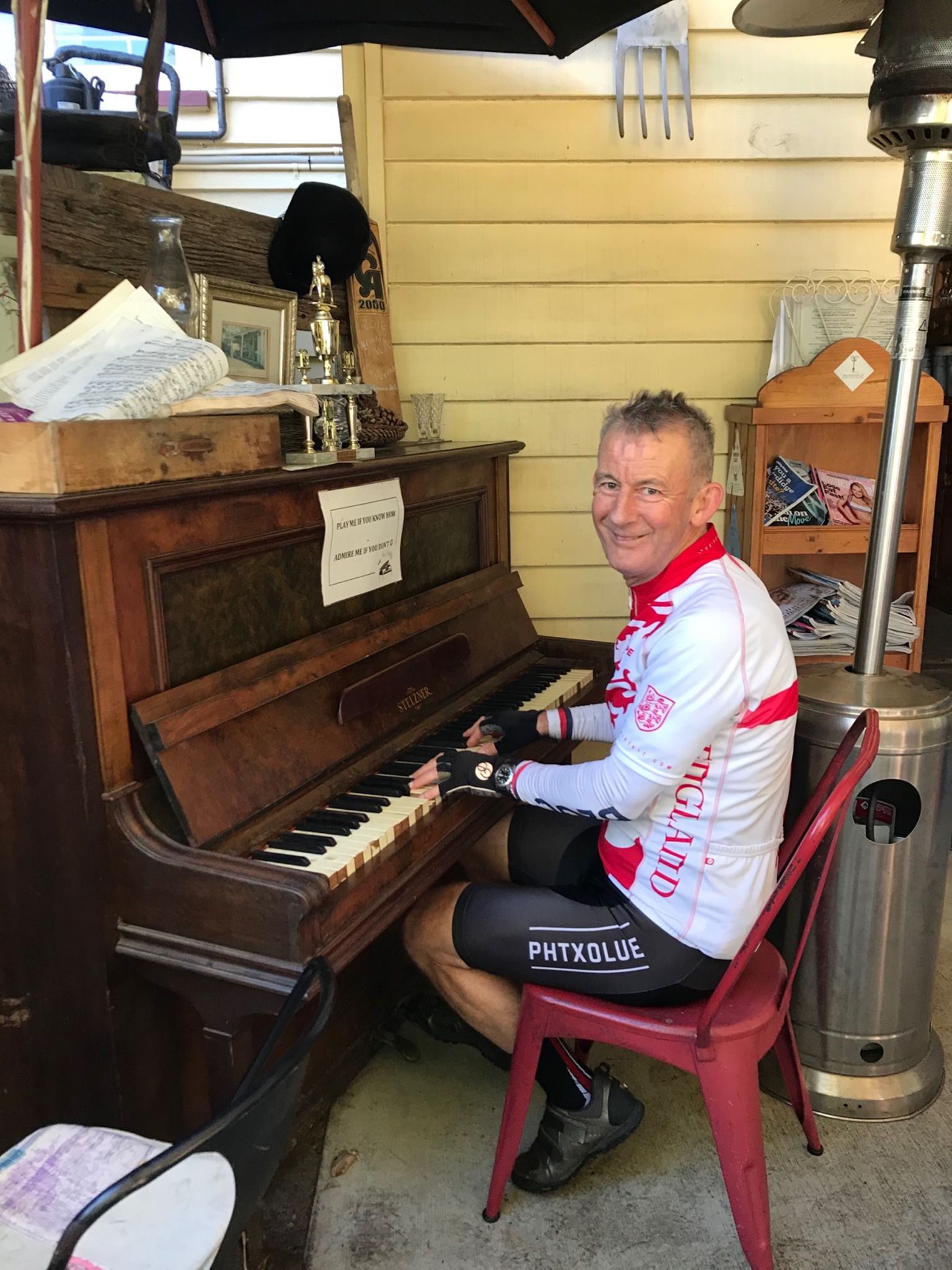 Refilled we tackled two fingers and a little twist up Hillbrook Rd and headed over to Gap Greek Rd which is far more tiring this way then coming down from The Gap.
Unfortunately this ride took us longer than expected so we skipped the last hill and final river loop and finished strong with a bacon & egg roll and a coffee.
While these 'social' rides are nice we all agreed that we have change our habbits and get some more kms done before we stop for filling our tanks.
#7 - 3 Points reverse with Avalon/Ford and Mt Petrie to finish
Another Sunday in the saddle. This time we did the 3 Points (Wellington Point, Cleveland Point and Victoria Point) in reverse.
Towards the end we stil had Avalon and Ford Road which are a bit lumpy and really can tire you legs. As if this was not enough Mt Petrie Rd had another pinch ready for us.
Even though it was not a very long distance with just 118km we all were pretty exhausted... maybe because the weather wasn't as nice as usual and we had to concentrate more on the wet roads than usual.
#6 - Mt Glorious via Goat Track / Brendale and Nundah back
I am not a fan of climbing but sometimes it has to be done. This weekend we headed out to Mt Glorious. Our way lead us past Samford Village where it was only 3 degrees and then up the Goat Track. The condition of this gravel road was excellent and the 3km climb was actually not too bad other than I heated up very well with all the 'winter' gear on.
From Mt Glorious village we went down the 'cork screw' which I did not enjoy because it is a very steep descent and my caliper breaks had to do hard work to get me down safely - too many riders have come off the bike here already.
After a short coffee break in Samfort we continued the ride through Brendal accross to Nundah and back Home via the Gateway Bridge.
All in all another beatiful day in the saddle and another >100km ride under the belt.
#5 - Brissie to Bay
Brisbane to the Bay was on on Sunday, 17 June.
We started with a group of ten from SAP for the 100km ride. While it took six patches to start ahead of us it became a rather quick ride. Lead out by a triathlet we established a group of three to ride together on this beautifull cold winter day.
The route took us out from South Brisbane to Wynnum and Manly, aliong the Bay to Wellington Point and then to Cleveland Point. From there back to South Brisbane. It took the three of us around 3h15 to get back. 
Afterwards we refreshed ourselves at the newly opened Munich Brauhaus at Southbank - the Erdinger alcoholfree was a real treat and thirst killer but I would not go back again.
Another >100km rider under the belt...
#4 - Three Points
After a couple of weeks without a longer ride it was about time to get back into it. This was the 4th ride >100km since my registration.
The plan is to do casual rides during the week and a longer ride on the weekend. These longer rides need to become longer over time so I get used to spending long hours in the saddle.
This weekend we went out to the three points (Vicotoria Point - Cleveland Point and Wellington Point). 
Next week I will ride 100km with the SAP team as part of the Brissie2Bay event.
Around the Bay starts in Brisbane
Hello everyone,
I have signed up to ride 300km in Around the Bay 2018 and decided to use this as an oppotunity to support The Smith Family.
Capped at 300 riders the new 300km loop with punch traces the entire coastline of Port Philip Bay, including a climb up the infamous Arthurs Seat.
It's a big ride, and just when you think you've found your rhythm on the Mornington Peninsula, you'll head up the infamous Arthurs Seat climb and take in panoramic views of the bay before returning to Melbourne.
As you don't just turn up and ride 300km in a day it required preparatio and training so you can last long hours in the saddle.  
I plan to share updates about my training over the coming monhts so keep coming back to check out my progress.
But more importantly I would appreciate if you would help me helping The Smith Family.
Cheers,
Marc
My Ride to Help Aussie Kids in Need
Uploaded a profile pic
Shared on social media
Received my first donation
Logged a training ride
Raised $36 to provide a book back
Raised $120 to provide a reading mentor
Raised $250 to provide books and support
Raised $576 to sponsor a student for a year
Thank you to my Sponsors
Philip Watts
All the best for Sunday mate. Given the amount of prep that you have done, I am sure all will be well. I hope that the weather is kind to you and your fellow riders.
Peter Amor
Well done Marc!!! All the best
Frank Robinson-cast
Keep up the training. Remember to get some high energy gels and caffeine fixes to give that much needed boost.
Pierre Cassano
Welcome to Melbourne Marc. Should be a fun ride, for a great cause. Good luck, fingers crossed for no flat tires!
Tony Thorpe
Great effort Marc! That's a lot of boring time in the saddle :)
Vaibhav Mathur
I had thought of helping you reach your goal. So this gets you just across :) Hope you get lots more for the kids! Good job & Best Wishes!!
Susan Fletcher
Good on you Marc!!
Benno
Good luck Marc. do a lap for me too please .....
Pat Brennan
Mate. good luck
Shane Lipke
Hope it goes well Marc, a very worthwhile pursuit
Adrian Tynan
Great work Marc!
Andrew Mclay
Well Marc - see you Sunday
Dan Desnica
Good Luck Marc!
Shane Lipke
Best of luck with this terrific cause
Chris Treston
Nice ride Marc, enjoy - hope the wind stays low :)
Sean Collins
Go Marc! You've certainly prepared well so now you can just enjoy the BIG day.
Thomas Bauch
Big effort for a great cause. Good luck and let me know if you need a training ride in Sydney
Eric Ye
good work Marc. It is inspiring to do good stuff like this. I hope your shoes had lasted for the whole course. :D
Ian Cook
Hope your wheels dont fall off
Claire Wildekamp
Good Luck Marc !
Ivy Ly
Delighted to support you for this cause.
Mark Guy
All power to the legs!
Taun
Nice one Marc. Good luck!
Kevin D'cunha
All the best Marc! Good on you fundraising for a great cause.
Andy Foster
A worthwhile cause and congratulations on reaching your goal.
Jon Wilson
Hi Marc, Well done on taking on this challenge. Wishing you all the best for the ride, and look forward to hearing all about it soon.
Mostafa Hashem
Good Luck!
Andrew Chung
Marc, great cause. Good on your mate. Happy to help out with a small donation
Corinne Devidas
Good luck Marc!!
Andre Nakratzas
Good job! Good luck and stay safe!
Sameer Inamdar
Good Luck Marc
Ramneek Sharma
Awesome Marc! All the best for your ride.
Walter Koenders
good luck Marc and have fun :-)
Thomas Van Veghel
Good Luck!
Amy Hawkins
Proud of you Marc, what an awesome thing to do!
Chris Low
Go get em Tiger!
Bernadette Bourke
Best of luck on the journey!
Chris Dixon
Good luck Marc and get those k's up
Latasha
Good luck Marc! I hope the weather is kind and you have a tail wind the whole way!!!!
Duncan Mitchell
Good luck Marc.
Dinesh Ananda
Good Luck Marc, All the best !!!